Our aim for this project is to explore the pitfalls and perils of social media; whereby placing the audience inside the machine the has become Social Media  
Taking direct inspiration from Willy Wonka Factory aesthetic, with an additional neon cyberpunk feel; the social media machine will be a fully interactive VR Environment.
Collaborative Project  : 
Luiza Awad (3D modelling, Avatars, Scene building in C4D & Unity VR)
Zofia Krzyzanowska (Sounds, Avatars, Videos, Animations), 
 .
Approach

: Willy Wonka Factory inspiration 
Hearts, Like button, reactions, floating around. 
Bright colours, overabundance of information, interactables
Big industry players floating above, and controlling the scene and elements as if they were puppets. 
Money used to turn the mechanics of the social media machine 
Humanoids, posing - VS. Snapshot of post (Reality vs. Expectation (Fake))
THE FEEDING HOUSE CONCEPT
This building will highlight the TikTok and instagrams culture of body. All across the walls will be animated planes that show the most popular TikTok dance movements as well as the most popular hashtags. 
Whilst this is happening the humanoid women in the middle with the hands as hair, will have her free hands connected to feeding tubes coming from the ceiling. as the audience spends more time in the scene, more and more money will be pumped fed into the humanoids hands. 
futuristic smartphone video content
culture of the body movements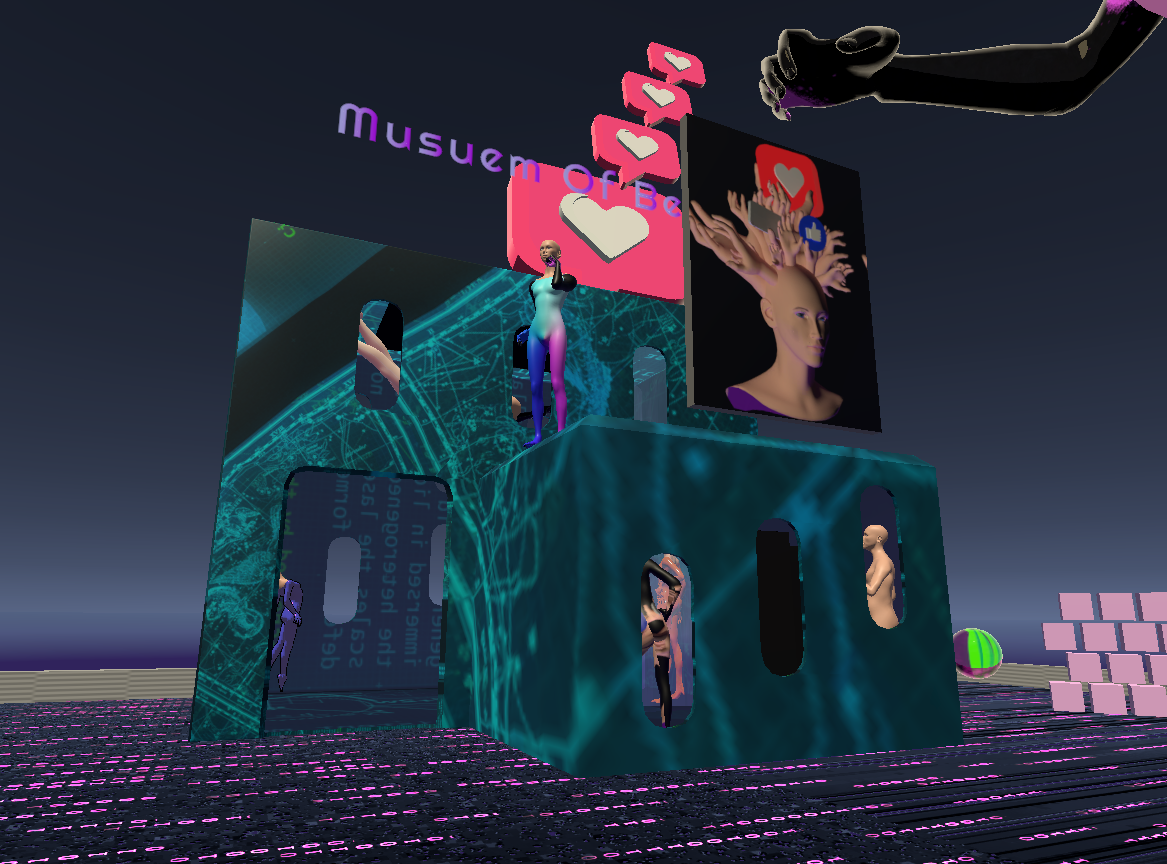 Through the use of humanoids posing whilst holding small iPhones; the museum of beauty aims to bring awareness towards the unrealistic beauty standards ubiquitously present in  social media platforms, via humour.
A slot machine connected to a massive computer gear, will be located in the centre of this tower. The intent with this space is purely an interactive one, as audiences will be given instructions to pull down the slot machine arm. Once such arm is pulled down, the gears connected to the machine will start to motion, propelling the screen message in code form : " Congratulations You have Just Given up Your Privacy"​​​​​​​
A massive humanoid touching the like button in return for money, will be situated overlooking and touching this tower. The intent with this space to show how the more "Likes" one has, the more the money is involved

.